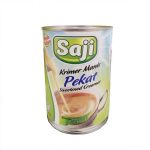 Saji Krimer Manis Pekat 505g
RM3.60
How can your favourite coffee and tea taste even better? With Saji Creamer of course!
It adds a creamier and smoother taste to your daily cuppa with the added goodness of Vitamin A, D3, B1 and zero cholesterol.
Available in a choice of Sweetened Creamer, Evaporated Creamer or Teh Tarik Creamer.
Description
Krimer Manis Pekat Saji 505g